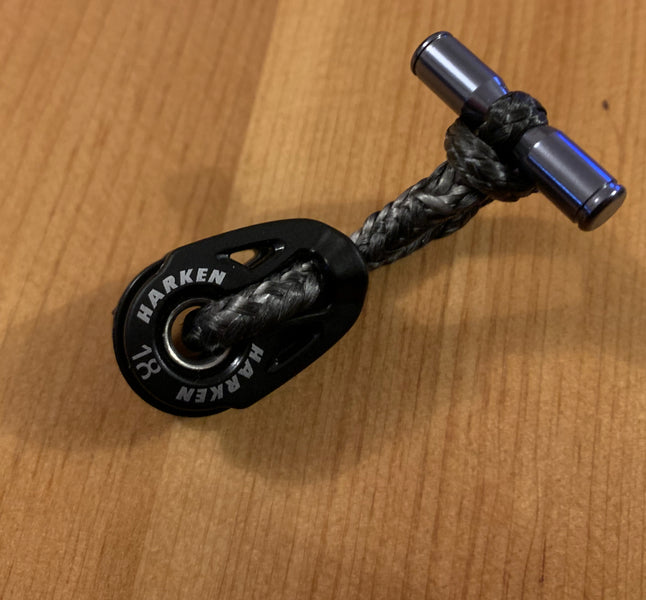 Boat Maintenance Tips
How to - Make a Soft Shackle with a Dog Bone
With a 6 or 7 Dogbone you can quickly create some super smart soft shackles that are safe, secure and very easy to undo when required.  
In this case I had planned to use a Harken 18mm  T2 Soft AttachBlock for the clew of my outhaul.  It is a very light and strong block and has an open centre which makes this all possible. 
What you need:
My aim was to make a line with one small loop at one end and a securely attached DogBone at the other about 120mm long (bearing to bearing surface.  This appears to work well around most sail clews. 
You would think that I can't use much more than 240mm of line to do this - and you would be right (well nearly) as the rope gets a little shorter when it is filled and working with the exact length is very tricky as you have no spare to pull or work.  So I start with about 40mm. 
 Make a loop about the size of your finger tip - this loop should be just smaller than the length of the dog bone so it is super secure when you have threaded the Dog Bone through.  
Ensuring that you have about 60mm of spare to tuck in. 
Then complete the Brummell by taking the long end through the short end. 
Then tuck the tail into the outer core.  I used my Easy Splice Needle fid here but you could just as easily used a 2/3mm push fid. 
Milk the outer back and you have a nice loop.  
Now work out where you are going to attach your Dog Bone.
In this case I want the DongBone to have a finished length of 120mm -  but remember that the leash will get smaller as you start to tuck the tails into the outer.  So I start at about 125mm.
 Using the 4mm push fid - take the tail through the rope and pull it tight.

Then to complete the Brummell around the Dogbone - you will again need the 4mm push fid to thread the loop end (tail) through the end.  In this instance our tail is the loop.  
Pulled through  - it looks like this:

Now you just have to tuck the tail back down the line - there is not much room now and you will have to come out of the rope at the same point as your loop end tuck finishes.  
For this I used my EasySplice Needle Fid. 
 Once finished you will be wasting a little piece of rope.  
Now you can thread your DogBone Leash through your 18mm Harken T2 Block
Job done.  Time to tell your friends just how hard that was so you look like a god of splicing.  
The article with video linked below might help remind you how a simple 12 braid splicing is done. 
Leave a comment
Can a soft "dog- bone" be used on a Laser outhaul in place of the metal sliding sleeve arrangement? If so, would you mind posting a picture? There are still a lot of "us" out here on Lasers. Thanks. Tedd in….. Kansas
Tedd Blankenship @ 2021-10-20 08:12:05 +0100