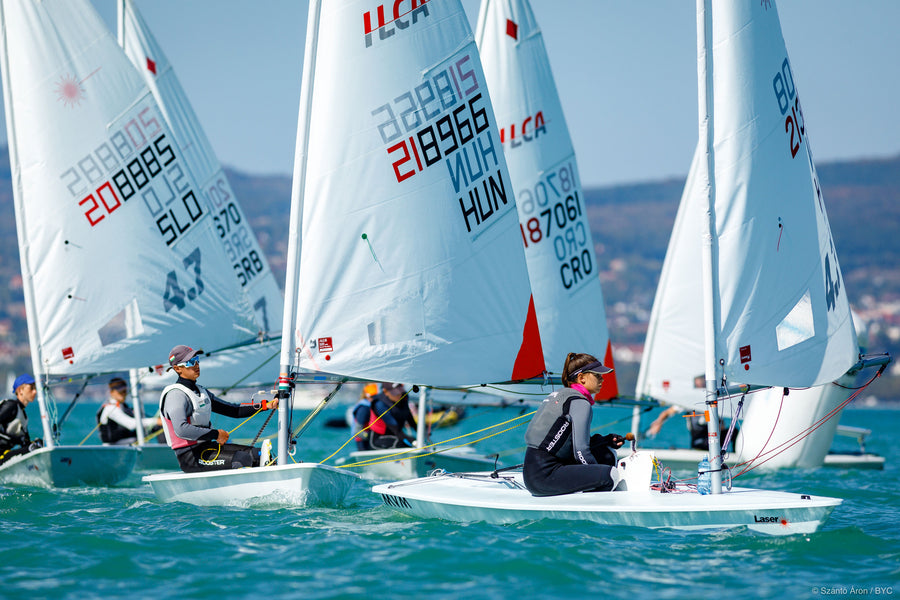 Stories from the Water
Blood Diamonds
The Red Rhombus or Red Diamond for Women is a hot topic of debate. Is it bad to single out female sailors, making them have to pay for an additional logo from their male competitors? Is it an archaic rule (in some fleets at least) for female athletes that needs to be abolished? Or is it a small token to celebrate female achievement when they're lapping the rest? This is an especially divisive topic, and I would just like to caveat the following with a note that of all the opinions surveyed, no two people had the same reasons behind their view.

Here's a collection of a few thoughts from both sides of the (of)fence.

Firstly, I do definitely understand when women feel they are being singled out – It does happen. Definitely, as a teenager, I was acutely aware of this, and the diamond was just another way for the world to more easily single me out for things I can't change about myself. At that age, life was difficult enough and trying to not be totally pathetic in a club of big-breeze-loving middle-aged men was totally unattainable… But I can see the flip side of this too. I did a brief stint in an ancient-old 420 and our elderly boat and old sails were previously owned by a male pairing – no diamonds. Getting a set of them gave us a visual validation that we didn't look like boys anymore… or at least the sails didn't. I remember feeling almost relieved – it was so nice to be allowed to look discreetly feminine and not Barbie in a boat. Getting a set of diamonds meant we'd made it and we were off to a big event (where we actually needed them) and had overcome so many hurdles to get there.

For non-sailing spectators, it's much easier to identify between classes that might not race together when you can see a tiny red dot or a fleet of dot-less sails from a distance. It's not so key for amateur sailing but for the sport to gain so notoriety so we might see it live on terrestrial TV like the F1 (I do like to dream!) It's going to need little steppingstones for new-viewer-accessibility, especially for the non-sailors and the rest of world to get to grips with. At a lower level - a few months ago there was an ILCA qualifier at my local sailing club and I cannot tell you the how inspiring it was to see the diamonds leading the pack. The red dot was the only way we could identify the women ahead of the men and had there been no visual aid to identify them, there's no way we would have known who was running away with it. Sail numbers are so difficult to read from a distance.

On social media, I've read parents' comments about how despicable and degrading the diamond is as it identifies the female sailor as "abnormal". The language used is rather inflammatory to the point of being offensive. But if displaying a diamond signifies a female sailor, does a lack of diamond display you as a male? It's not good if you identify as non-binary or prefer not to answer, but then, how would World Sailing and ultimately the IOC deal with this? – There's a new can of worms to be opened which I'm not sure our RYA would be fully ready for yet… British Cycling certainly weren't and FINA (world swimming's governing body) appear to have opted for male, female and open categories in an attempt to be both inclusive and fair… Athletics to follow…

At elite level men and women train separately – before the 470 went mixed, the top performing men and women didn't train together. Not because one sex is better than the other or because ultimately, men and women are in different fleets, but because they have different training requirements.
If we are all to be treated the same, where do we draw the line? On the extreme end of it, we'd all be wearing unisex clothing, riding the same bicycles, no 1st female prizes and no separate qualification quotas for women. Speaking to an ex-Radial (now ILCA6) sailor she was very clear in her mind that women can't compete at the same level as men in that class and going gender neutral would result in the top 6 boats going to the big regattas all being male. It's not even because women are less that men - just different and a boat like an ILCA maybe doesn't serve the female form as well as it does male. It's not an issue that is specific to the ILCA either. In fact, anything from RS Aero to  29er and beyond seems to have the same issue, based on regatta results at least. Professional tennis has a very clear divide for this – the men play a very powerful game with serve speeds that make your eyes water but the women play a slower, much more technical and tactical game. [Shout out to Andy Murray's casual feminism!]. Gymnastics has different events for male and female athletes – traditionally, to show off power and strength for a male athlete and grace, elegance and supple-ty for the female athletes.

I think we can all agree that men, women and the trans communities are unique and when this comes to sport, there's a very delicate line to tread between fairness and inclusivity. As the world becomes more aware, will the red rhombus for women remain? Or will it become extinct as we move to a modern age? I can see other sides of the argument and I know how it feels for both sides too… but I couldn't give you a definitive answer… Only that, at an amateur level, I think we have bigger fish to fry!