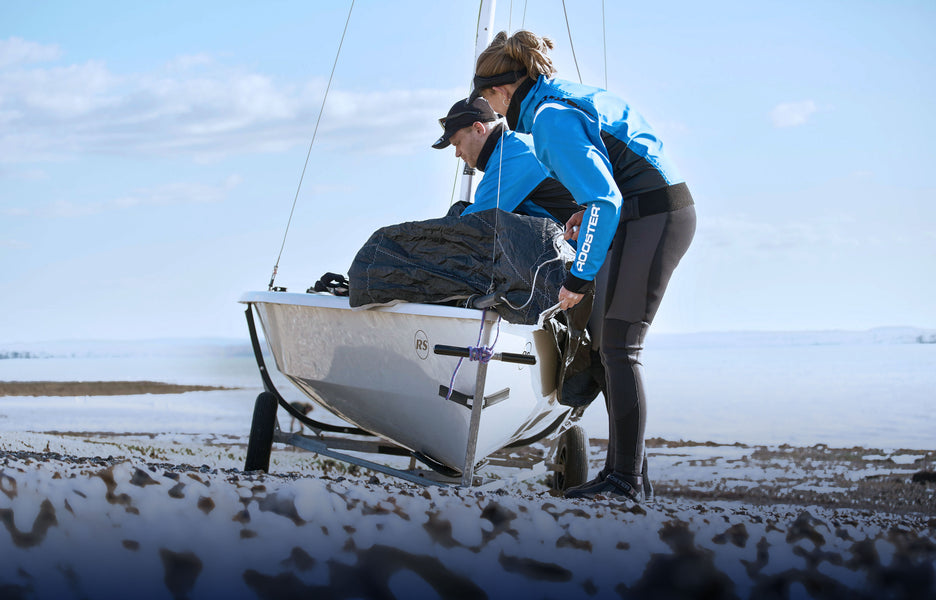 Kit Guide
Top tips for keeping warm now the weather is changing
It's that time of year when the winds get crisper, the water turns colder and the seasoned watersports enthusiasts prepare to stay warm so they can continue to enjoy their time on the water. From team to Rooster riders, we've found some great tips to keep you toasty this season.
Tip 1: Layers, layers, layers
Layering is key, we recommend in the winter a thermal base layer : Either PolyPro™ or Hot Stuff and depending on how cold you get can be worn as a combination with the top, leggings, socks and glove liners. Next up is Neoprene, we firmly believe in the wetsuit layering system where you have a longjohn and top - if you combine our thickest range you get 8mm thickness on your core then 4mm on your arms and legs where you need to move. The cherry on top of your Rooster layering is then an Aquafleece® spray top, these come in a large variety of styles, thickness and colours so the choice is really up to you, and how you feel the cold on the water.
For the full layering guide click here
Tip 2: Look after your extremities
We all know you lose the most heat out of your head, hands and feet - so why not look after them and keep them as warm as possible! For your hands wear both a glove liner (Hot or PolyPro™) plus a normal grip glove over the top. On your feet you can wear a combination of socks from the liners (again Hot or PolyPro™) with the wetsuit socks over the top that come in a 2.5mm thickness or a 4mm thickness. Lastly your head, it's pretty obvious but many people forget about it, so put a beanie on either a wetsuit one, a merino wool beanie, or a waterproof fleece beanie. Other accessories such as the neck gaiter and headband can also help keep those important parts of your body warm.
Tip 3: Take a warm drink onboard
Invest in a flask or chilly bottle that keeps drinks warm on the go. There's not much that beats a hot drink on an icy day. It will help you heat up but also give you a bit of a morale boost when it's one of those really cold days.
Tip 4: Stay active when you're on the water
The sea might be calm,  but that doesn't mean you have to be. Regular moving on your boat / board will generate body heat, keeping you warm and making sure your muscles are ready for any movement. A great trick if you've lost the feeling in your hands is to do this movement to get the blood flowing back into your hands. It's simple yet an effective way to tackle numbness in your fingers!
Tip 5: The sock strategy
Put your socks on before your wetsuit or longjohn which can save the struggle of getting a thicker wetsuit on over your feet. Also ensure your base layer leggings are tucked inside of your sock so these do not ride up when you pull your wetsuit on. Another good trick with socks is if you are using them for consecutive days and you haven't managed to fully dry them, then turn them inside out so you have a dry inside sock.
We hope that armed with these invaluable tips you can embrace the changing weather with open arms and know that you are prepared to be snug and warm whatever the Autumn seas might throw at you.
Fair winds and warm layers!