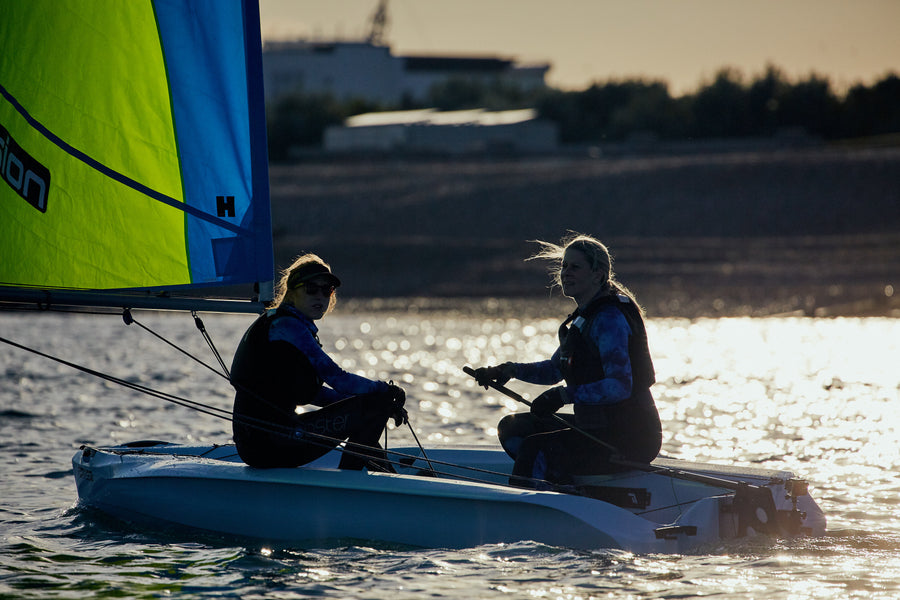 Kit Guide
Top 5 Best Ways to Start Sailing on a Shoestring
It's really easy to see how expensive sailing can be. You look at the top end of the sport – The Americas' Cup, Sail GP, The Olympics and classes like the International Moth, it ain't cheap. It definitely doesn't mean that you have to spend a fortune to get started or to keep yourself safe, comfortable and on the water. Here are our top tips for recent graduates of the RYA Levels and fellow penny-pinchers:


1: Clothing
The basics to get you going would be boots, a wetsuit, a windproof/cag and a buoyancy aid and most brands will now do an Essentials range or a set of entry level garments to get people out and enjoying the water, without investing loads of cash before you hit the water.

Second-hand is also not to be sniffed at (no pun intended)! You can get lightly used or even un-used but too old to return garments at the snip of the retail cost. There are groups on Facebook such as Out-Grown Me Sailing Clothing and your local club probably have a noticeboard full of "For Sale" adds. It's also worth checking out our Ebay store for our samples, seconds and demo kit as well as a clearance area.
Once you've got your basics, you can think about adding accessories such as gloves, neck gaiters, hikers and hats as well as additional layers to either cool you in the summer/autumn or keep you toasty in the winter/spring when the water is coldest.

If you do other sports too (cycling, running, skiing etc) a lot of garments such as base layers and small accessories can be used for multiple sports so no need to have 6 different hats for 6 different disciplines!

2: Boats and Boards

Some clubs have club boats, boards or equipment that are available to borrow which is ideal for new sailors or families with kids that want to play pirates 24/7. Using hired gear is a really easy way to get involved with club activities and try things before you take the plunge and buy your own. Many clubs will offer a Pay-and -Play so it's always worth enquiring when you're weighing up joining a new club.

New to a sport doesn't mean you also need all-new equipment either. Facebook Marketplace, Apollo Duck, Facebook's Dinghies and Dinghy Bits are all great places to look for equipment needing a new home

3: Conditions

Check the forecast – If you use Windguru, a wind strength in pale blue or white is super-light or nearly-no wind. Orange is probably not a great wind strength until you're a little more experienced and red, pink, even purple are stay at home colours! Wind direction can make a big difference too – some directions (generally speaking, easterly) can be very shifty and gusty, so that the wind doesn't seem to want to sit still. This is tricky for any sail powered craft.

Tide is another one to think about if you are lucky enough to live near the seaside. When the wind is in the opposite direction to the tide, it churns up the sea and it can make for some difficult conditions, particularly if you're new to the water. Shallow areas, bird nesting restrictions, overhead cables etc etc, all local features that are worth being aware of.

If you're unsure- ask! Fellow water users are super helpful and always ready to lend a hand if you're not sure why they aren't hitting the water today
4: Care & Maintenance
Pretty boring stuff but it could be the difference between buying a small shackle and expensive breakage or your longjohn lasting 5 years and not 1. Prevention is so much easier, and generally a whole load cheaper than a fix. Wear Protection shorts and ProRash Leggings can be worn over the top of a wetsuit to prevent nicks and abrasion that can lead to holes and cold water flushing through. A rash top  or race bib will do the same for your upper half too.
If you do find you've developed so wear and tear (which is to be expected eventually), you can get repair kits such as Rooster's Aquafleece Repair Kit and the iron-on Neoprene Repair Kit to tide you over.

There are a few "shortcuts" you can take with re-purposing household items for your hobby. We've all seen 2m length of pipe in the sail bag to keep them from folding in half but there are so many other options. Squash bottle tops instead of bobbles, milk bottles for bailers and sandwich bags to get boots on over drysuit feet are a few other well-knowns.

It goes without saying to check you equipment for things that could be looking to fail on you. A really simple and effective way to do this is to give you boat, board or kayak a good and thorough clean every so often so that you end up checking all the nooks-and-crannies where the Pixies hide. If you do find something on it's way to the big chandlery in the sky, you can more than often place your order for the replacement piece whilst stood in the boatpark and have it arrive with you a few days later.

5: Buddy-Up

Ask if you are not sure! What is everyone else wearing? Why are people not on the water today? How can I do this better?...

Learning from your friends is far cheaper and more easily applied in a real world setting. Make friends with people who are regularly on the water and set up a WhatsApp group so you can co-ordinate your outings to be sure you're making the most of your opportunities, safely. Some clubs have professional safety cover all year round (more or less) and some are volunteers on race days or set occasions.

We hope the 5 top-tips will help you to get the maximum enjoyment on the water for a minimum budget. If you have any top tips do let us know – we would love to hear them!