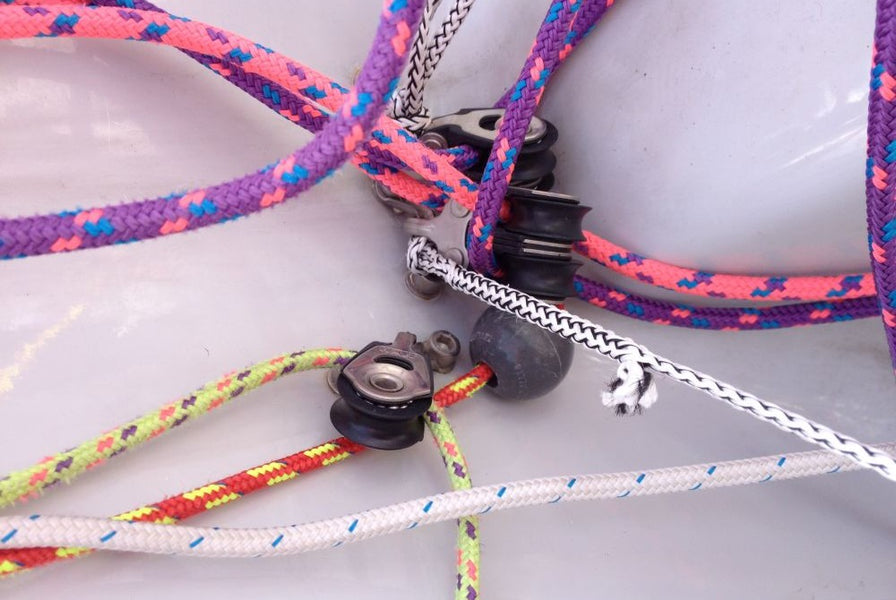 Technique Tips
How to Make your RS200 Toe straps Comfortable - and its not just the toe straps!
Having a borrowed boat for a big event, there is always a bit of boat bumbling to do to ensure you have put something back to its owner and at the same time made the boat fit for a championships. After a first sail in the RS200 - I felt for my crew, who is normally a hiking machine in his laser - and now was wriggling around trying to find some solace from the discomfort of hiking in the front of the 200. There was none on the water, but once ashore we found a friendly face and asked - is there a trick to hiking a 200? Tom Morris, the Hayling Island 200 guru was quick to help and suggested we move the front crew take off to the kicker point either side. He added that even though his crew had fairly small legs, that she also found it much better with the toestraps taken inboard.
Forward toe strap tie to the Kicker Take Off.
He added that we should also move both sets of toe straps to the most inboard part of the middle hard point at the same time.
After fitting two
600mm Rooster pro padded toe straps
to the front crews position and two
695mm Rooster Pro Padded toestraps
to the helms position we were keen to try them out. The first test was in the boat park. The change of face from "this is torture" to "I can do this" was remarkable. Finally he looked like the week would not be a painful slog. It was not the toe straps with their super rubber grippy bottoms that did it for him, more the fact that taking them in board gave him the secure feel, and reduced angled knee that made his job in the front tolerable.
The interesting part is that the top teams apparently knew this trick, but the majority of the rest of the fleet did not. This reminds me that there is never a silly question, just too many people too concerned that they might seem silly to ask one. The top guys were more than happy to help me once asked.