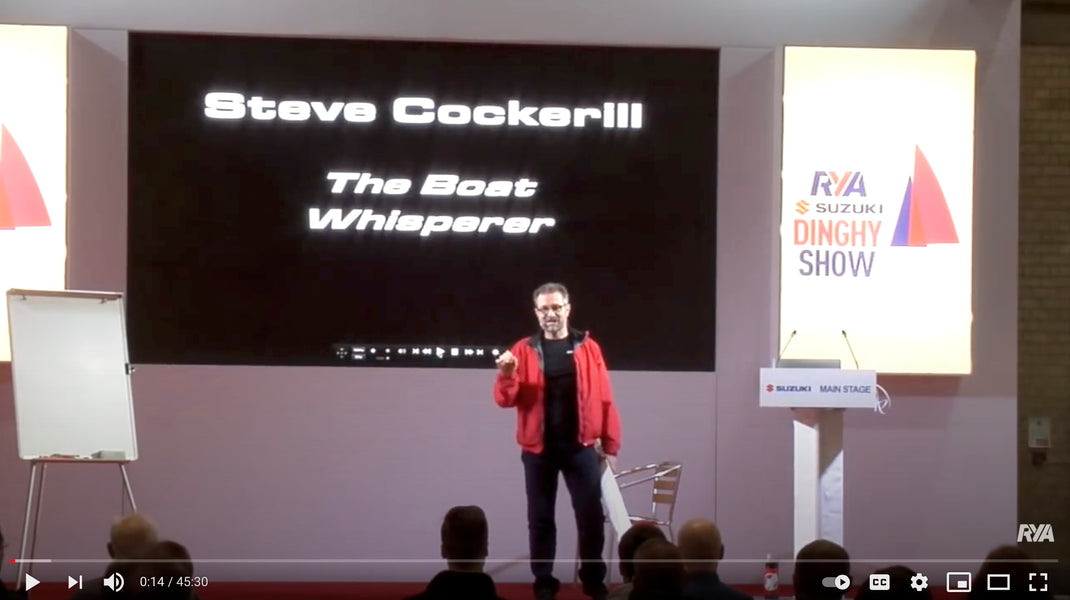 Technique Tips
Boat Whisperer Talks
For a taste - check out this freebie from the RYA dinghy show talk:
If you have watched the Boat Whisper DVD's/Digital Downloads and need another explanation, or if you are simply interested in making your boat sail faster without any investment in sails or rig tuning, then why not help arrange a Boat Whisperer Talk sessions which can be held at your local sailing club.
Do they make a difference?
I like to recall the time I was accosted by almost every Australian at the Laser Masters Worlds in Terrigal Australia. They were all excited about how the Boat Whisperer DVD's had improved their racing and how it had inspired them to attend the World Championships. Some explained that the DVD's had shaved 5 minutes off their race track. Laurence (the main sailor in the Upwind and Downwind DVD's) was obviously the hero as it was his mistakes that were enlightening. If you prefer a digital download - see here:

When do they take place?
I generally do the talks between the clocks going back for the winter and forwards for the spring. There is no point talking to sailors when the sun and wind are out. But I am confident that I can change a sailors mindset so they can start to improve their sailing straight away.

How can I book a Boat Whisperer?
Send me an email (steve at rooster sailing dot com) and I can try and dovetail you in. I have talked in New York and Reykjavik so there is no problem coming to your local sailing club.
How much do they cost?
The basic fee is £250 plus vat, plus expenses. Sometimes flying is cheaper! You would set the ticket price.
Which days am I free?
Normally I try and avoid weekends and holidays as this gets in the way of family sailing time. My best day is probably a Wednesday evening.
How can I organise a talk at my club?
Discuss the idea with your committee to get some funding approval and send me an email to check on my availability, hopefully, I can fit you in. If you would like to expand the talk to local clubs, you might find it an ideal inspiration to building support for your winter programme or spring regatta. Let me know if we can advertise the talk on this page.
What is the Normal Programme?
Most clubs start at 19:00 and take a 20-minute break for some food, usually included in the ticket price. I wrap the talk at about 22:15 although there are at least a couple of breaks to refill your glasses.
Please Comment
If you have seen me talk before and would like to recommend it to someone else - please comment so others might be inspired to arrange one or travel to one locally. I have some current experience in single and double handed dinghies as well as coaching Olympic sailors - my sailing CV speaks of someone who is perhaps slightly devoted to dinghy sailing, some might call me an Anorack. - ;)
2023 - ILCA6 Masters Inland National Champion (all categories)
2023 - Runner up fourth time in Solo National Championships! 
2023 - Europe National and Open Champion
2022 - RS400 Southern Tour Champions (Steve and Sarah)
2022 - Europe National Champion
2022 - ILCA6 Masters Inland Champion
2021 - Europe National and Open Champion
2020 - Europe Inland National Champion
2019- RS300 Inland National Champion
2019 - RS400 1st Master, 1st Loving Cup, 1st Lady Crew (Sarah), 3rd  UK and Irish Nationals (Steve and Sarah)
2019 - RS400 Southern Tour Champions (Steve and Sarah)
2018 - Laser Radial Grand Master World Champion
2018 - RS500 World Championship Runner-Up (Steve and Sarah)
2018 - RS500 National Champions (Steve and Sarah)
2018 - Aero 7 Masters World Champion and Third overall.
2018 - RS800 European Championships 3rd place (Steve and Sarah).
2018 - Aero 9 National Champion
2017 - Aero 7 World Champion
2017 - Aero 7 Masters World Champion
2017 - 2000 National Champions (Steve and Sarah)
2017 - 4000 Euro Cup Champions (Steve and Sarah)
2017 - Laser Radial Masters European Champion - 1st Grand Master
2016 – Laser Radial UK Masters – Master Category 1st
2016 – 4000 Euro Cup Champions (Steve and Sarah)
2016 – 4000 National Champions (Steve and Sarah)
2015 - Laser Radial UK Masters - Master Category 1st
2015 - Laser Radial Spanish Masters - Master Category 1st
2015 - 4000 Euro Cup Champions (Steve and Sarah)
2015 - 4000 National Champions (Steve and Sarah)
2014 - Rooster 8.1 National Champion
2014 - Laser Masters World Champion (Radial Rig)
2014 - Runner-Up - Solo National Championships
2013 - Rooster 8.1 National Champion
2013 - Laser Radial North American Masters Champion
2013 - Graduate National Champion (Steve and Harry Kennedy)
2012 - Rooster 8.1 National Champion
2012 - Laser Masters European Champion (Radial Rig)
2012 - Graduate National Champion
2011 - Laser Masters European Champion (Radial Rig)
2011 - Laser Masters National Champion (Standard Rig)
2011 - Streaker National Champion
2011 - Graduate National Champion (Steve and Harry Kennedy
2011 - Scorpion National Championships - 3rd (Steve and Sarah)
2010 - Rooster 8.1 National Champion
2010 - Laser Masters Inland Champion (Standard Rig)
2010 - Laser Radial Master National Champion
2010 - Graduate National Champion (Steve and Harry Kennedy)
2010 - Laser Master World Champion (Radial Rig - Master Category)
2009 - Laser Masters Inland Champion (Standard Rig)
2009 - Laser Masters European Champion (Standard Rig)
2009 - Laser Masters Ladder Champion
2009 - Laser National Radial Ladder Champion
2009 - Streaker National Champion
2009 - Graduate National Champion
2008 - Laser Master European Champion (Standard Rig)
2008 - Streaker National Champion
2008 - Graduate National Champion
2007 - RS300 National Champion
2007 - Laser Radial National Champion
2007 - Graduate National Champion
2007 - Streaker National Champion
2007 - Rooster 8.1 National Champion
2006 - Laser Master National Champion
2006 - Streaker National Champion
2006 - Runner-Up - Solo National Championships
2005 - Laser Radial National Champion
2005 - Laser Master National Champion
2005 - RS300 National Champion
2005 - Blaze National Champion
2004 - Blaze National Champion
2003 - RS300 National Champion
2003 - Laser Master National Champion
2003 - Blaze National Champion
2003 - Laser Radial National Champion
2002 - Laser Radial Master World Champion
2002 - Laser Radial National Champion
2002 - Laser Radial Inland National Champion
2002 - RS300 National Champion
2001 - Laser Radial National Champion
2001 - Laser Radial Master World Champion
1995 - Laser National Inland Champion
1995 - British Pre Olympic Team - Savannah
1994 - British Pre Olympic Team - Savannah
1994 - Europe British Open & National Champion
1992 - Europe National Champion
1992 - Runner-Up - Solo National Championships
1990 - Europe National Champion
1989 - Europe National Champion
1988 - Europe National Champion
1987 - Europe National Champion
1986 - Europe National Champion
1984 - Graduate National Champion
1984 - ASTON UNI BUSA Team Racing Champions