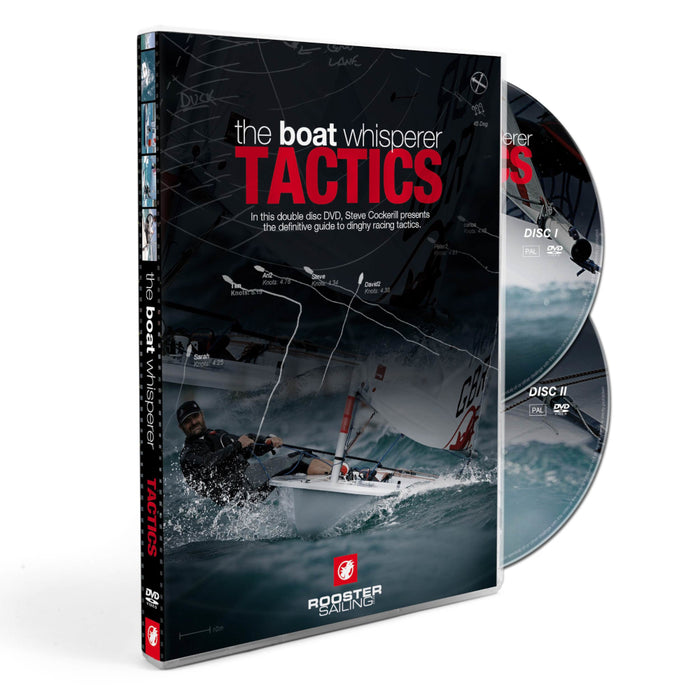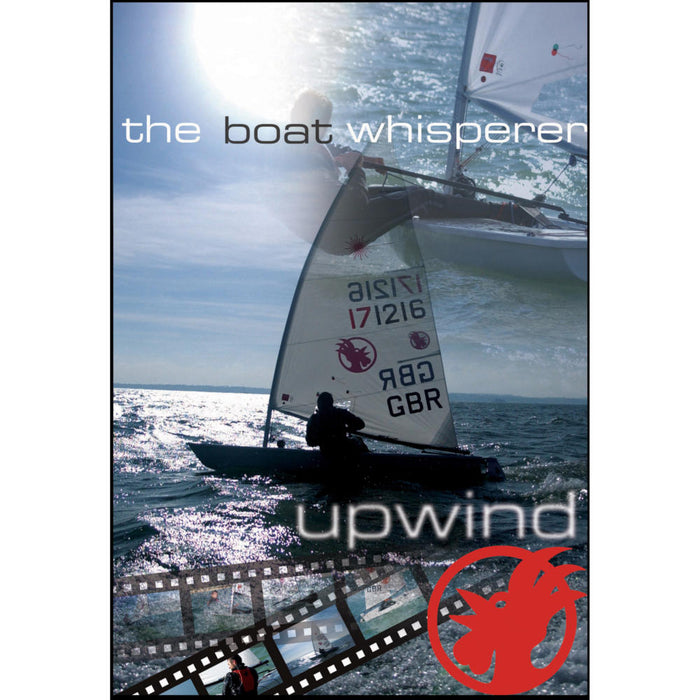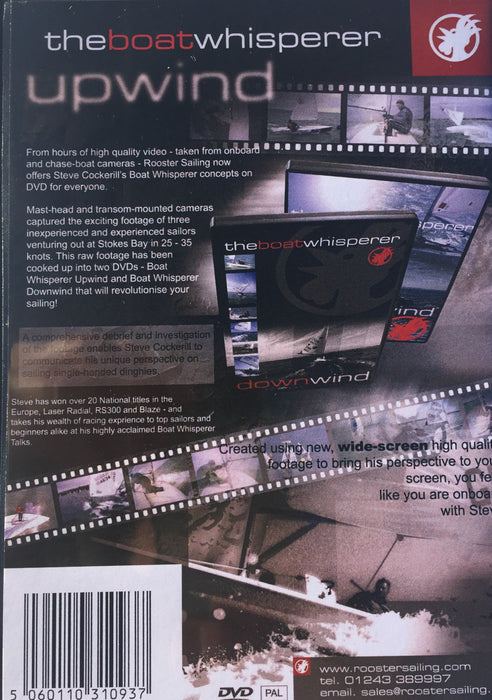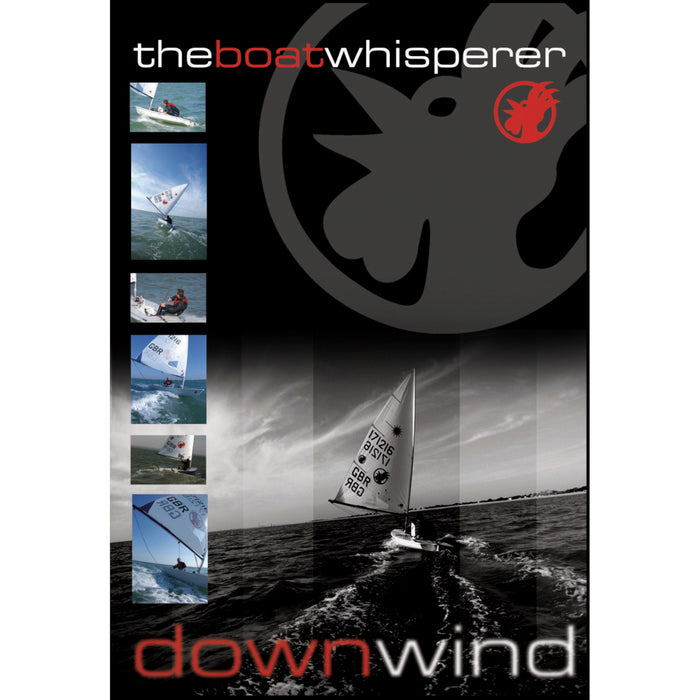 Description
Delivery & Returns
Description
Rooster Sailing is now pleased to offer a new digital download service of these popular DVD boxes sets. These are now MP4 files converted from the original 'The Boat Whisperer' DVD Series. This is for the complete set, just select 1 quantity, and you will get all 3 titles as a COMBO package, Boat Whisperer TACTICS, UPWIND and DOWNWIND as MP4 files. (In a single .zip file).
Please NOTE: Apple users, the .zip file downloaded will need to be unzipped.  Please see the Rooster Blog for more details - See: HERE
In addition, also included in the combo digital download as a separate MP4 file, is the 'raw footage' but with no commentary. This is useful so that coaches and trainers can add their own commentary and interpretation of the events.

From hours of high quality video – taken from onboard and chase boat cameras – Rooster Sailing now offers Steve Cockerill´s Boat Whisperer concepts as a download for everyone.

The Boat Whisperer Upwind  & Downwind media

Mast head and transom mounted cameras captured the exciting footage of three sailors venturing out at Stokes Bay in 25-35 knots. This shows the Downwind action and presents a comprehensive debrief and investigation of the footage which enables Steve to communicate his unique perspective on sailing single-handed dinghies.

This media will be useful to both experienced and inexperienced helms to improve their technique and understanding of boat handling.

Steve Cockerill presents the definitive guide to dinghy racing tactics. Featuring footage from both onboard and spectator angles, along with in-depth post race analysis, the Boat Whisperer Tactics DVD will provide knowledge to improve all aspects of your dinghy racing. Please review the video trailer at the end of this article.

The Boat Whisperer Tactics media

Steve Cockerill learned his tactics pond sailing before winning the BUSA and the Inter-Service Team Racing Championships with Aston University and the Royal Navy.

While sailing 470´s and Lasers in successive campaigns between 1988 and 1996, Steve honed his big fleet experience. He then gained the coach´s perspective in the run up to the 2000 Olympic games and has won over 60 major championships to date, including his latest title of '2018 Laser Radial Grand Master World Champion'. The last few years Steve has won:

2018 – Laser Radial Grand Master World Champion
2018 – RS500 World Championship Runner-Up (Steve and Sarah)
2018 – Aero 7 Masters World Champion and third overall.
2018 – Aero 9 National Champion
2017 – Aero 7 World Champion
2017 – Aero 7 Masters World Champion

Steve, affectionately known as ´The Boat Whisperer´ since the release of his Upwind and Downwind Boat Whisperer DVD sets, has been eager to produce a Tactics DVD to add to the series. The introduction of GPS loggers, TackTracker analysis software, and HD waterproof cameras has made this his most exciting project yet.

Synopsis of the 'The Boat Whisperer TACTICS' double disc DVD Series.

The location for most of the scenes on this double DVD, is set in the Island of Cabarete, the water-sports capital of the Dominican Republic's golden coast in the Caribbean.

Most of the action is set in the blue, warm waters and skies of the Caribbean, using Lasers and Laser Radials, but reality soon hits us with some interesting footage of the Rooster 8.1 Nationals held in an overcast UK on the Thames in 2010. At this location, Steve discusses how to get on the correct side of those localized wind pressure/gusts (called pressure sailing).

Steve for most of the first DVD set discusses the situations and applied tactics, commentating on the spectacular footage with HD cameras shot from the conventional support boat, but also from the top of Laser masts, sterns and bow shots (used on the Rooster 8.1)

The content is aimed at the typical dingy race club sailor or occasional open meeting traveller who wishes to improve and understand how those regular race winners are consistently fast on the dinghy race track.

The commenting on each situation is clear and easily understood, and to complement the HD videos clips, the use of GPS receivers and tracking software (Tacktracker) has been used. Most of the first DVD concentrates on the start/upwind/windward mark roundings and how to either get in the right race track position (called 'positioning for boatspeed' ) or how to extract yourself from those 'not so good 'situations either on the start line or the windward mark approaches.

The second session starts with start line tactics, dealing with how to 'poach' leeward gaps / defending them, port end biased start lines and port tack starts and those all important 'bail out situations' at the start.


"Cockerill provides a constant narrative through-out both DVD´s (Upwind and Downwind DVD's) using a patient and relaxed presentation. There is no quick go fast solution, Steve explains what to do, and what not to do in detail and uses the video shots and diagrams to illustrate his points. These DVD´s show you what books cannot and are well worth the investment as at each viewing you will always learn something".

Jeff Martin, Former Secretary of the International Laser Class Association
Delivery & Returns
You can select your preferred delivery option or local pick up from Rooster at checkout.
We are happy to accept your returns so long as you send them back within 30 days.
UK Mainland returns can be sent back to us by clicking here from all other locations please click here
For full details on all our terms and conditions click here.
Thank you for being a customer of Rooster, if you have any questions please use our online chat, call or email.
Email: sales@roostersailing.com
Phone: +44 (0)1243 389997
Reviews
Total 5 star reviews: 3
Total 4 star reviews: 1
Total 3 star reviews: 0
Total 2 star reviews: 0
Total 1 star reviews: 0
100%
would recommend this product
Great videos!

Very good explanations and relevant topics that will allow you to sail faster, and handle boat in more windy conditions. Easy to understand the reasoning - and to include learnings in daily training. Consider to create updated versions for dinghies with bigger rudder surface compared to the Laser (i.e. Europe, OK, Finn etc.).

great explanations and video of actual good and bad practices

Love the explanations. Great value. I'd like an index so I can skip ahead to points at a particular time when I am reviewing it.

Amazing Dvd. 100% Great!!

Essential for those who want to know the details and techniques of laser navigation.

I hope one day this subtitled in Spanish, in that case it would be 110% great !!

Rooster Boat Whisper Series

These DVD's are the best thing I've found for learning how to sail a laser
Reviews Loaded
Reviews Added