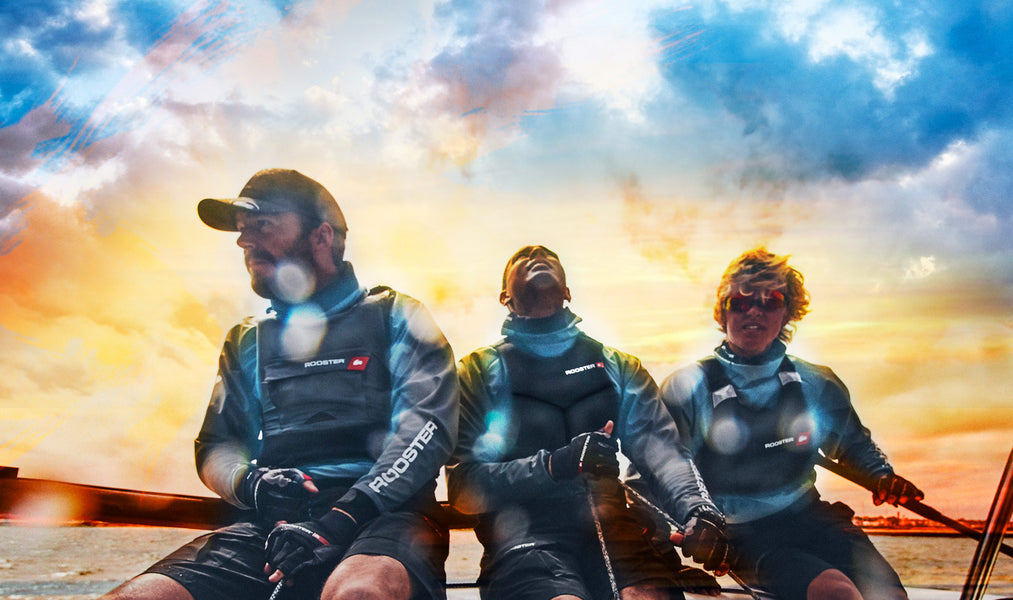 Kit Guide
Understanding Buoyancy Aids - Which Buoyancy Aid to Buy?
Rooster is one of the biggest Buoyancy Aid designers and manufacturers in Europe and has a vast amount of sailing experience within the team. You can be sure that once you have read this you will know what buoyancy aid will suit your requirements. If you are buying a buoyancy aid for the first or even the nth time, this article will help you work through the different versions, styles and specifications of those on the market. Our different buoyancy aids, often mistakingly called life jackets, have unique features that make them suitable for kayaking, SUP-ing, kite surfing, high-performance trapeze boat sailing, single-handed sailing, sports boat sailing and junior sailing. We tend to use the industry term PFD which stands for Personal Floatation Device.
Which Buoyancy Aid is right for me?
Our
50N overhead PFD
took its inspiration from a kayak pattern and has been super popular with high-performance dinghy racers who want a clear view of their trapeze hook or who are looking for a PFD that gives them a good clearance with a low boom. Its high cut volume gives you extra manoeuvrability with your arms - so it is super comfortable sheeting or paddling. It also comes in a
junior overhead PFD
is the same volume as the small adult but has leg straps. As they grow, you can remove the leg straps and still have a functioning PFD as they grow. One possible drawback is as an overhead PFD, it can be slightly harder to put on for those with less flexibility. Every effort has been done to ensure that the foam has been shaped around your chest for comfort and that the adjustments have been covered by neoprene to reduce snagging, This can make it a little awkward to release the tensioning straps at the side (the ladder locks are hidden under the neoprene cover) but once you have felt the ladder lock under the neoprene with your thumb, you can release the tension from the outside of the neoprene.
If you are looking for a junior PFD for your 8 year old - then the
junior front zip
makes it really easy to fit as your youngster only needs to stand in the loops when it is undone and you just zip them in. On the other end of the spectrum, we have our newest addition, the low profile
50N CE impact neoprene buoyancy aid
, specifically developed to fit snugly in all the right places. Unique to Rooster, this
CE12402-5
Approved
certified buoyancy aid is an advance in our buoyancy aid range.
I have been wearing the initial sample 50N CE impact PFD for a couple of years during its development. I wanted something that I did not know was on me and was as slim as it could be. We also wanted the smaller chest sized sailors had sizes that fitted snugly but also offered the required buoyancy for their weight. Used by high-performance dinghy racers wakeboarders, windsurfers and kitesurfers. You can tell how much we loved the final samples by our reaction in the office back in Autumn 2019.
EN ISO 12402-5 Side Zip PFD
Our
Side Zip Buoyancy Aid
is a less sporty more general-purpose side zip option which is simpler and easier to put on and also uses the same softest foam for ultimate comfort we find in all our pfds. The foam does not have the internal shaping that we use on the Black Diamond Overhead PFD, but it is thinner which makes it more flexible. You do, however, have to remember to zip and clip once it is on before it will offer you the security you require.
You would have seen my Father wearing a side zip version when he was sailing his GP14 until he hung up his sailing boots 86 in 2015. All of our specifications have passed regulations for use in dinghy sailing and both conform to the 50N rule detailed in the rule book we all sail by. You may, however, notice that this 50N rule does not mean that every PFD has 50N of thrust - since smaller users would find too much buoyancy a hindrance - the 50N rule laid out in the specification details the required amount of lifting thrust required for the weight of sailor.
Still confused - give our technical or sales team a call on 01243 389997.