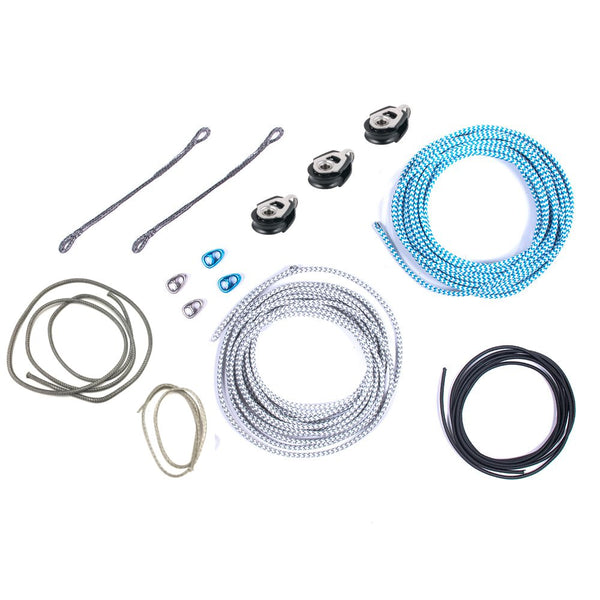 Kit Guide
RS Aero Over Deck Rigging
RS Aero Over Deck Rigging
POST VIDEO NOTE: Please use a separate piece of short grey line in the Rooster kit to attach the two blocks to the traveller eye. see image below:
This is to stop any chance of the two blocks and their 3mm elastic from tensioning the traveller in any way. This was required by measurement at the 2018 World Championships.
The story:
During the recent RS Aero World Championships, it became apparent that if I wanted to release the controls downwind efficiently that I would need to change the control lines to over deck take up style. The old style tended to get a little tangled downwind:
I was inspired by Steve Norbury's version that I had seen at the Aero Southern Championships which I knew was class legal. Obviously, I have put some of my splicing experience into the kit to fasten the two Ronstan Shock Blocks in place and used Rooster's EasySplice™ Continuous Control Line as it's just so easy! I used the Ronstan Shock Blocks as they can be colour co-ordinated and are very light - which I guess is nice as the boat is so nice and light. I also used Selden 30mm Loop Top Blocks for the take ups. They are also lighter and more than man enough for the job.
Rooster has produced a kit with most of the splicing done, all you will have to do is 'cow splice' the Ronstan Shock Blocks onto a pre-made double loop 180mm line under the deck. But if you are feeling brave, take a look at the related Rooster Videos on Splicing (Reverse Brummell Hitch, Spectwelve and Rooster EasySplice™ Continuous Control Line). We suggest you use 2mm Spectwelve (an SK78 12 braided Dynema) for the take-up tidies and Rooster 4mm Spectwelve (an SK78 12 braided Dynema) for the traveller. You will also notice that I have adopted the Rooster colours which have been used extensively in singlehanded sailing with blue for downhaul/ Cunningham, grey for outhaul and red for kicker or vang. Feel free to take the parts and ropes in the colours you are used to.
I used 5m of EasySplice™ for the outhaul system, although I did not have much line to spare so perhaps it's worth taking 6m and losing a bit. Our kit is now 5.5m so you will need to first ensure your outhaul is maximum off.
Then join the outhaul when it can just go in front of the centreboard case with a little movement.
For the downhaul, I used 8m of EasySplice™, plus 1m of 2mm Spectwelve for the two side deck tidy's and 1m of 4mm Spectwelve for the traveller.
Tools: I like my tools so I tend to try and use them all. But if you are keen to do the whole thing yourself then you will need:
If you purchase the kit, then you will only need the EasySplice™ Needle Fid, twine and needle, although I am sure you would still find the Serrated Scissors useful.
Splicing Tip When you cut the centre core out of easy splice, leave it as loose as possible. This will enable the other line to pass into it easier. Do not try and milk it to make it smaller as this will make it harder to pull the other end through it.
RS Sailing is the most forward-looking company I have ever been close to. I understand that they will be stocking these 'Rooster' upgrade kits in due course. I think it will make a significant difference to your Aero sailing enjoyment - if it could get any better!
Save
Save