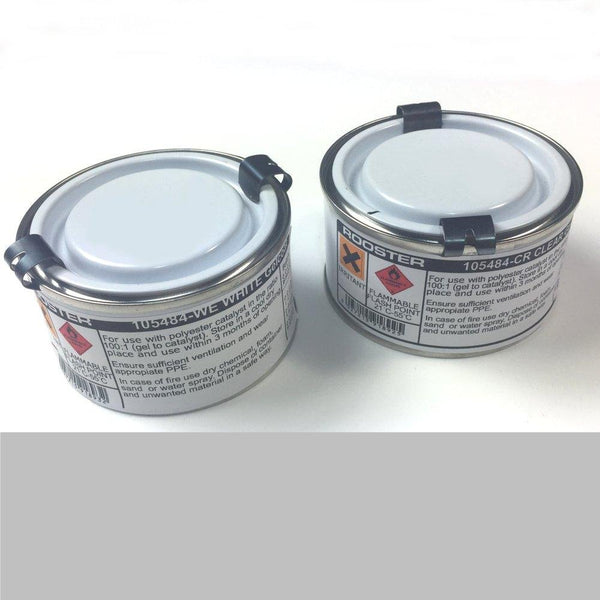 Boat Maintenance Tips
Small Sailboat GRP repairs: Working with Gelcoat - invisible repairs...
Gelcoat
First, try to buy a gelcoat either by the name of the existing hull/deck colour/shade of your boat, or if possible find out from the original manufacturer or class association the BS, Scott Bader or RAL code of the gelcoat colour used, so that it will match the existing. See this video here for more details. Years of UV and sunlight will discolour the surface (makes it a lighter shade in most cases) and may cause a some mis-match to getting a perfect match. You may need to mix an additional pigment to get a perfect match for your boat.
For the Laser 2000 here is a handy guide to the colours v sail numbers they used see:Hull Colours | 2000 Class Association the deck moulding and hull below waterline have always been Vella Grey, except for the Purple boats which we believe were Dawn Grey.
A RAL colour chart such as the above can be useful.
Once you have your gelcoat, check that the gelcoat you intend to use has a small amount (approx. 2%) of styrene wax additive added. This wax additive is used to aid curing the gelcoat, and creates an air barrier so the resin can cure to a tack-free state ready for wet sanding and finishing.
Always stir the contents thoroughly for at least 1 min before using and dispensing from the container.
You will need to add and mix catalyst to the gelcoat to make it cure. MEKP is the standard curing agent/catalyst for polyester resins and gelcoats.
How to repair small damaged areas?
1. The area of damage should be thoroughly cleaned. Loose particles should be scraped or sanded down. Very minor damage or scratches need only to be cleaned with acetone.
2. Mask up using masking tape the area, sand down with 120 grit oxide to expose & key the damaged area.
Clean the area with
acetone
, mix the gelcoat (add any extra pigment to get the exact colour/shade) and then add the
catalyst
.
How much Catalyst?
2% is ideal, 3% is a fast mix. Additions outside these bands in not advisable for proper curing, in fact adding more than 4% may result in a failure to cure. The pot life of the mixture is also determined by temperature and the amount of resin you are mixing in the pot etc.
Appy the first coat of gelcoat mix with a small plastic
spatula
. The minimum temperature whilst filling, should be + 13C both the air and surface temperature. 
The higher the temperature the faster the cure. Ideal temperature is 16 - 20°C Use 6 drops into 10ml of resin. (As a guide 1 UK tablespoon = 14.2ml)
Curing: At 15C pot life is approx 15 mins, repair cure 1-3 hours. At higher temps, cure times will be reduced and colder, will be slower. Never work on surfaces colder that 10C and do not allow the resin or catalyst to freeze.
3. Allow to cure for 3-4 hours (depending on temperature).
After 1.5 hrs at 20 deg. C the first gelcoat layer is hard and tack free.
4. Rub down the repaired area lightly with 180 grit wet and dry paper, until all unevenness is removed. Use the grades, 200, 400, 600 and 800, and finish by lightly sanding with 1000 and 1200 grade wet and dry paper. Use lots of water when rubbing down and prevent the wet and dry paper from clogging.
5. If necessary, repeat the above process and apply further quantities of mixed gelcoat and more rubbing down, finishing off with 1000/1200 grade wet and dry paper.
6. Avoid sanding outside of the damaged area (using masking tape again to protect the existing gelcoat) as one can easily rub through the existing coloured surface to expose the uncoloured laminate beneath and therefore increase the area of damage.
7. After sanding down with 1200 grade wet and dry, polish to a mirror finish using a fine rubbing compound (with a light spray of water on the surface and a damp cloth) such as Farecla G3 and then  Farecla G10 (use dry) and apply a good marine polish such as McLube HullKote polish to complete.
The final repair completed seen here in this short video..