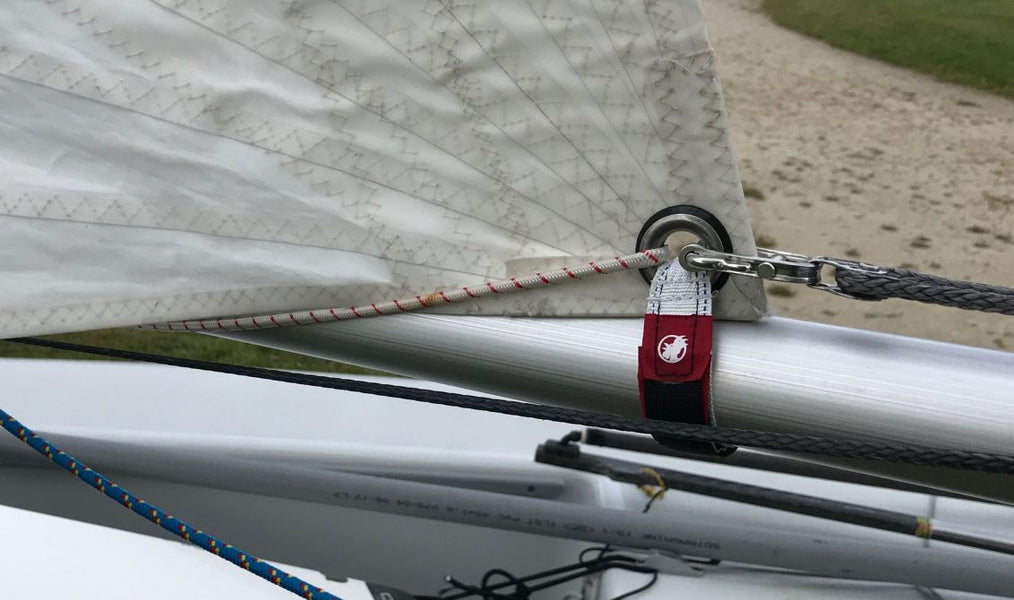 Tuning Guide
Laser Clew Straps - the good, the bad and the ugly!
Whilst at the Laser Masters Europeans I was surprised to see Jean Luc Michon not using a clew strap. Jean Luc is a very experienced Laser sailor and is usually a senior member of the Jury at major regattas. This time though he was going to sail.
When I asked him why he wasn't using a clew strap, his reply was "because they fail, I always end up giving mine away." It was with confidence that I then said, "I guess you have only ever used poor copies rather than the original?" And, to my relief, he agreed.
5 minutes later I had fitted him with a Rooster clew strap and showed him how to fit his outhaul elastic, to not over-stress the clew strap and gain some extra shape in the clew of the sail. The Rooster outhaul elastic is designed to go from the boom cleat, under the boom, though the sail eye and then under the boom to cleat onto the clip.
I reminded him to always pull the small ring to the sail ring and never attach your elastic to the clew strap.
It was not that hard to adapt Jean Luc's elastic and clip to make a proper job and we tested it - super smooth!
So then I was on a voyage of discovery to see just why Jean-Luc had so little confidence in this fantastic design.
It didn't take more than 3 minutes to find a couple of boats with hideous examples of clew strap set-ups that I would not trust. The first example here shows that the elastic has been attached to the side of the strap rather than the clew of the sail.
The next example made me wonder if in the clew strap had been made the correct length to overlap. It is at least 1 inch short and again the elastic offends the sail when on port tack. The ring seems very large and can often damage the boom.
This final example doesn't look particularly strong either. The lengths of the velcro overlap needs to be better than this or the clew strap, which is a great solution when designed to overlap correctly, will be tarnished as the velcro fails to grip. I wouldn't trust this to hold securely.
The Rooster clew strap and outhaul system has been designed with simplicity and performance in mind. Kit you can rely on!
 There are now alternative captive shackles if you don't like the Harken Hook and Pully.  
First published 12 June, 2017
Rigging the 6:1 Outhaul for Laser with Steve Cockerill
Save
Save
Save