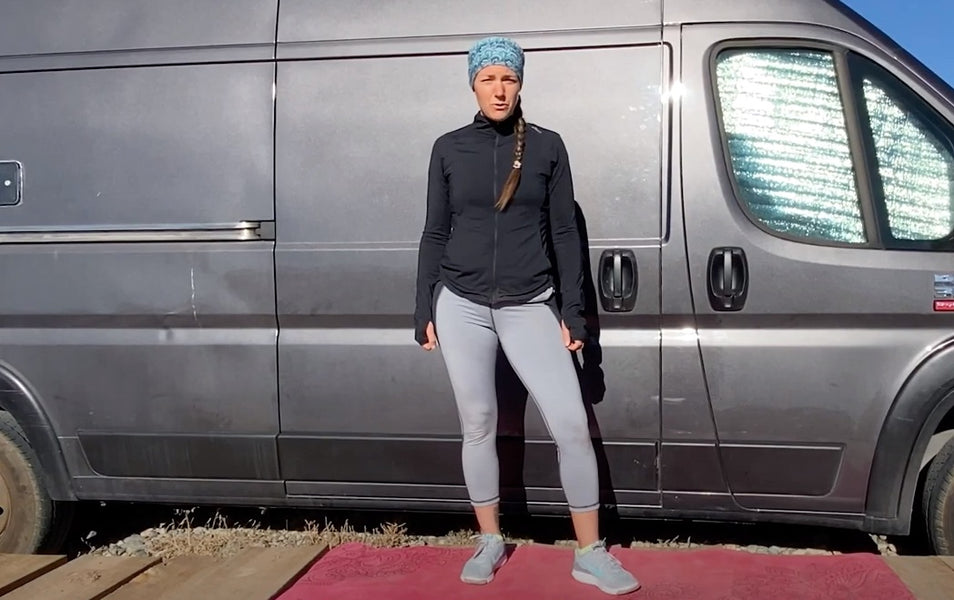 Technique Tips
Sail Winter and Pandemic Sailing Fitness Tips by Rachel Goetting
Rachel Goetting SailWinter and Pandemic Sailing Fitness Tips and Balance Trainingorcise LLC.
With winter just around the corner and the world still amid a global pandemic, how are you staying in sailing shape? Winter is a great time to put the fitness training in to boost your sailing performance on the water. Our simple tips will help you start or keep working out all winter long. You will also find a 15-minute Sailing Balance Training video. No equipment is needed for this training, making it an excellent workout while spending more time at home with the pandemic.

Tip #1: Make a Plan

If you want to stick to working out, you need a plan! Without a plan, most likely, your new or present fitness training won't last too long. You can sit down and schedule your daily, weekly, monthly, and yearly plan for your fitness training. Look at your week and schedule when, what, and where your fitness training will fit in that week. You also want to look at your outlook for the month and year to accomplish those fitness goals. Maybe buy a small calendar or use your phone to put in the times, routine, and where you will get in your fitness training. Having a plan will help you to start and stay with your fitness training! Start planning your week out today.

Tip #2: Find Something You Love

Not everyone enjoys working out, but when you find something you love, it makes doing that fitness training a lot easier. There is a lot of different workouts I love doing, but I particularly love running. I love getting outside in the mornings and going for long runs. When I don't have a lot of time, I know that running is a quick workout I can get in to stick to my fitness training. On the flip side, make sure you find something you love and do some things you don't enjoy. This is going to help you reach your fitness goals. Find a workout you like and put it into your plan. This will help you to start and keep working out daily! You will even start looking forward to those workouts.

Tip #3: Get Outside

Rise and get outside! In my opinion, there is no better way to workout than out in nature. Yes, it might be cold, but it can be the best workout if you dress properly. Go for a run or add a simple 30-minute walk into your routine. Disconnect from technology and enjoy the cold weather. We love our outdoor workouts! Running, walking, hiking are great options for the winter. Also, if you have the opportunity, get to a ski mountain for some riding or skiing. I know we are hoping for lots of riding time at the mountain this winter! With certain restrictions getting outside might be more difficult, but find a way to get some fresh air each day.

Tip #4: Set a Goal

Setting goals in your daily life is so essential for success. The same goes for your fitness routine. You want to have daily, weekly, monthly, and yearly goals. Having these goals is what is going to increase your performance out on the water. These goals don't have to be big; for example, a daily goal could be to complete 50 push-ups. You want to think about your fitness goals and make a point to accomplish them daily, weekly, monthly, and yearly. Accomplish those goals!!

Tip #5: Push Yourself

Push yourself each day! Some days are going to be easier than others, but find a way to push yourself. I know some days I wake up and really don't want to get out of my warm bed to go outside in the cold. But I put my clothes out the day before, and that helps push myself. I always get back from the cold run or workout happier because I did it! If we push ourselves, we will get stronger each day. You got this! Keep pushing all winter long!

Check out our 15-minute Sailing Balance Training video below. This is a great workout to help stabilise your muscles and build strength all winter long so you can make significant gains in your fitness for when you get back on the water. No equipment is required for this workout making it a great workout to do anywhere anytime!
Subscribe to our YouTube channel for more on fitness and nutrition for sailing!