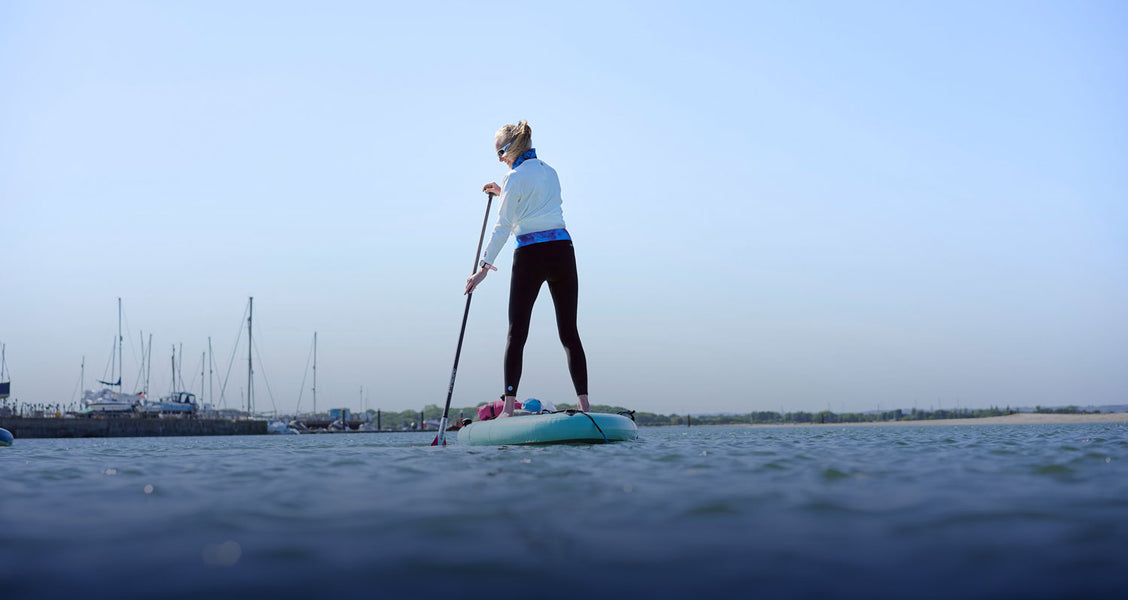 Kit Guide
Keeping Your Skin Safe: Why UV Protection is so important.
With the blazing sun on the rise, it's time to talk about the essential topic of UV protection: protecting our precious skin from those sneaky UV rays. At Rooster, we know the importance of shielding ourselves from the sun, which is why we have a full range of UV protective clothing, ranging from leggings/tops to hats. Our tight-fitting rash vest range is limited to long sleeve only, as we strongly believe that protection is the key to longevity in both your health and the time you can spend doing the sports you love. So, read on to see why UV protective clothing is so important.
The Sneaky Threat of UV Radiation
UV radiation are the invisible troublemakers that the sun sends our way. There are 3 types or UV rays, UVA, UVB and UVC that can seriously mess up our skin. While the Earth's atmosphere absorbs most UVC, UVA and UVB rays still pose a significant risk to our skin. Prolonged exposure to UV radiation can lead to various health issues, including sunburns, premature aging, eye damage, and an increased risk of skin cancer. That's why we need to take UV protection seriously. Suncream is the number one thing most people think of when they think 'sun protection', but, wearing the wrong clothes can lead to unexpected sunburn and damage through your clothing – That's why It's important to get your kit right, but that is easy because we have done the hard bit for you! Check out our UV offering here:
Why Long Sleeve Rash Vests Are a Must-Have
Enhanced Sun Protection: Long sleeve rash vests offer coverage, ensuring that your arms remain shielded from the sun's harmful rays. By minimizing exposure, these garments significantly reduce the risk of sunburns, skin damage, and potential long-term health consequences. You can soak up the fun without soaking up the UV!
Versatile Style: Our long sleeve rash vests are designed with versatility in mind. They're made for action! Whether you're sailing, paddleboarding, kayaking, or any other water activity, these versatile garments have your back (and your arms). They're the perfect combo of protection and comfort, so you can enjoy every moment of your aquatic adventures.
Breathable and Comfy: We get it. No one wants to feel like they're wrapped in a hot, sweaty sauna suit. That's why we offer both the tight-fitting long sleeve rash vests and our UV long sleeved T-shirts, which are made with lightweight, moisture-wicking materials. Working to keep you cool, dry, and comfortable, even when you're working up a sweat out there.
Durability: We pride ourselves in delivering high-quality products, where our rash vests, longsleeved UVF tops and leggings are no exception. Constructed with durable materials, these garments are built to withstand the elements and get you on the water in your element.
How to choose between the Rash Top Long Sleeved and Quick Dry UVF 50+ Tech T-Shirt Long Sleeved? A lot of the time it is personal preference, so here are a few key differences between the two. The Rash Top has a tighter fit, feeling more like a second skin and better suited for "wetter" watersports such as dinghy sailing, surfing, wingfoiling and more. The Rash Top is also better for cooling you down when the top gets wet as it spreads the water around your body, so ideal in very hot climates. Whereas the Quick Dry UVF has a looser fit and can be crossed over from more casual situations to "less wet" watersports such as Stand Up Paddle Boarding (as long as you don't fall in!) and kayaking. The looseness can mean the top helps with more circulation, again good for paddle sports. Both provide equal protection from the harsh UV rays so the overall decision is more about your personal preference and in which one you will feel most comfortable on the water in.
So, in conclusion, protecting your skin from those harmful UV rays is no joke, especially when you're out on the water. By choosing UV protective garments, you can enjoy the water with peace of mind, knowing that your skin is shielded against harmful UV radiation. Embrace the world of UV protection and prioritize your health and well-being on your next adventure.