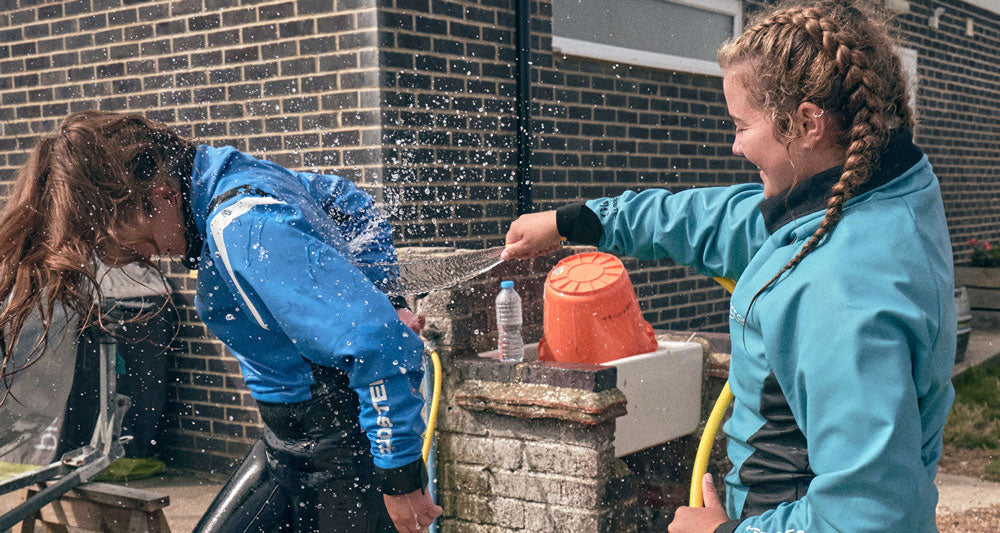 Kit Guide
How to care for your kit
Being on and around the water can be a lot of fun, but when it comes to kit maintenance, this might be the last thing you want to do after a challenging day on the water yet is essential for the sustainability of your kit. That's why we've put together some of our best advice for you and your kit.
Rinse your kit immediately when you get home, especially if you've been in salt water - a great way to do this is to dunk it in the bath or a large flexi bucket.
Hang it up properly like this:
Take care to rinse any zippers to make sure there's no sand, grit or salt stuck in them.
Re proof any items that have DWR treatments to ensure they stay waterproof. We recommend using Grangers Clothing Repel. Info on how to apply this to your garment can be found on our Garment Care Page.
Some below some handy advice and hacks from our ambassadors to see how they get the most out of their kit:
Leanne @pinkypaddles - Paddle boarding enthusiast
"Dry your wetsuit boots upside down on broom handles. If you don't want to wear neoprene or waterproof socks under wetsuit boots but struggle to get boots on bare feet then put pop socks on (tights material) for easy glide!"
Jenny @jwingsurf34 - Sailor, windsurfer and wing surfer
"If my sailing boots smell, I put a tbsp of bicarbonate of soda in my boots, with hot water. Leave overnight. Wash the next day - fresh as a daisy for more watersports action"
Henry @henrym1235 - Topper sailor
"At open meetings and training events I buddy up with others that are going. One of us takes a bucket to wash the kit out in, another brings a spin dryer and another has a dry buddy to dry it out"
Maurits @maurits.wijnants_sailing - Europe sailor
"Always take a clothes hanger with you at the bottom of your kit bag. Rinse all your gear before you take it home. Reuse your Rooster boot bag to put your neck gaiter, balaclava, sun hats and any extras in"
George @georgeyeoman - International 14 sailor
"Homemade boot rack : Wet boots, especially in the winter, are the ultimate 'ick' factor before getting on the water, so why not let gravity be your friend. We found drying boots upside down makes a huge difference to the drying speed, so why don't you try this.
What you need:
1x old broom, 1x old plank, 1x drill bit & 1x little bit of wood glue
Get an old broom stick and cut into 30cm sections. Take a plank and measure out how many boots you want to be able to dry, I suggest 10-15cm gaps between the holes which you drill to be able to put the pieces of broom handle in. Apply some wood glue to the holes, stick in your pieces of handle and, hey presto you're all set. Happy sailing (and toasty toes)"
Emma @em_hivey - RS 200 sailor
"A quick rinse and hanging it straight up gives you the best chance of dry kit the next day, but also reduces the risk of your wetsuit rubbing or getting a rash at the knee/elbow creases. I now take some coat hangers, pegs and a cheap mini camping rotary line to events as it works well to quickly dry your kit without the faff of trying to find somewhere to dry it"
Tadeo @tadeo.funess - 29er sailor
"Avoid folding it or leaving it rolled up for long periods of time, as this can damage the neoprene and leave permanent wrinkles. Avoid wearing jewellery or other objects that could scratch or tear the materials of your kit and try to avoid chlorine as this can be damaging to neoprene and other materials, if it does then wash as soon as possible."
Issy @issyglazebrooksailing - ILCA sailor
"Drying my kit on my C-monsta hanger has been a game changer, coupled with washing it with Halo, which means it can be washed on a lower temperature, which is turn saves energy and helps care for the environment"
But what happens when washing and rinsing your kit isn't enough?
Another way to extend the life of your kit, just when you think it's on the brink, is through repairing it. If you've got a small tear in your Aquafleece® or neoprene wetsuit we sell repair kits for both. This means you can bring your item of clothing back to life without having to buy a new one especially when you just have a minor tear. Larger tears may require some hand sewing or using a sewing machine - we would recommend keeping some swatches from old wetsuits for back up in case you need to patch up your current one.
Prevention is always the best cure which is why we would always advise on the correct care for your clothing from day dot. There are some easy wins to be had, for example investing in a pair of Wear Protection shorts to wear over your wetsuit in a dinghy can be a great way to protect the seat of your wetsuit from any damage, especially if you are prone to rubbing around the deck (or sail in a hiking boat!)