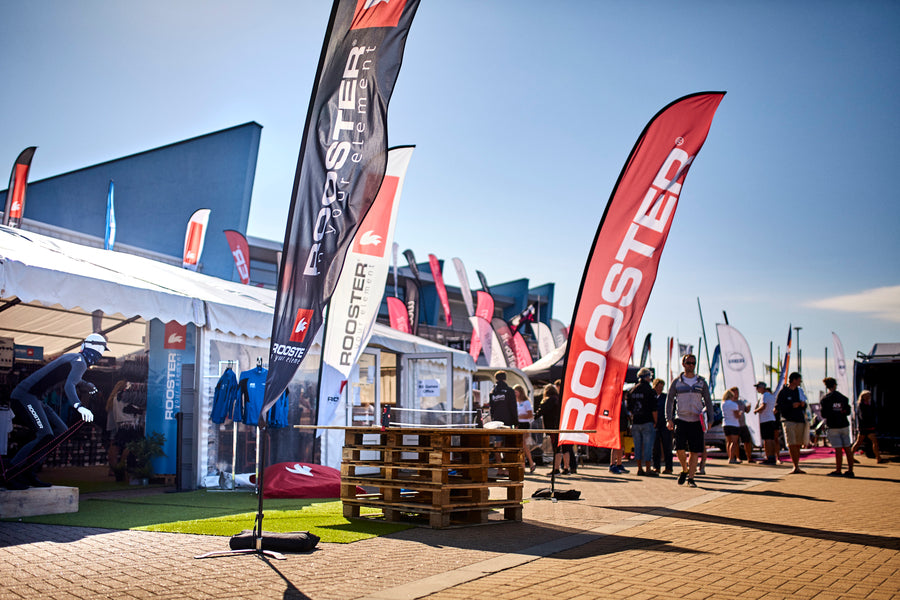 Rooster News
2023 Shows: Where are we heading this year?
New Year, new shows for Rooster! We are very excited to announce that 2023 will be Rooster's biggest year for shows in history. We have a jam packed calendar of familiar territory, to debuts and new industries to engage in. Not to mention a bunch of competitions and offers we have to get you to the show you're looking forward to most. Stay tuned to find out more on social media and via email/SMS over the coming weeks!
Where are we heading?
1. BoatLife 2023
16th - 19th February at Birmingham's NEC.
It has become the communities first UK boat show in the calendar after making its debut in 2022, hitting the ground running and bringing in the masses. This budding show aims to celebrate the love of life on the water and discover all things boating under one roof. In 2023, the show sees familiar names from the Dinghy World attending and building the dinghy lifestyle presence. The Rooster stand will be there in all its glory, showcasing our core products and some new to the collection including our DAME award winning Aquafleece Robe, and some much anticipated neoprene products! We look forward to interacting with a new audience, and hopefully catch up with some familiar faces along the way.
2. RYA Dinghy & Watersports Show 2023
25th - 26th February at Farnborough International.
We are back for our 23rd edition of the show! If you haven't been to the Dinghy Show before, it's a place where all our Dinghy friends from across the UK, and sometimes further, gather for one weekend of the year to catch up, check out the latest releases, listen to their sailing idol on stage and stock up on chandlery and gear for the year. The Rooster stand never fails to disappoint and this year we are bringing out the big guns. Come and check out our Aquafleece zone, our genius chandlery bar and exciting new products (alongside our first Dinghy Show sale rail). If you came to us last year, you may remember our 'coming soon' area… well the wait is over as some of those products will be available to take away on the day. As usual we will be launching a competition for a family pack of tickets and a Dinghy Show Rooster spending voucher - stay tuned to find out how to get involved over the next few weeks.
3. The National Outdoor Expo 2023
18th - 19th March at Birmingham's NEC.
A second new show of the year for Rooster! In line with our outdoor industry growth, we are attending one of the UK's largest outdoor retail shows, that brings together speakers, brands, outdoor enthusiasts and the gear to get you started all under one roof. Tickets are now available to book online if you fancy something a little different and to stock up on essentials and hear from the best in the industry for your other loved activities besides sailing and watersports.
4. The Southampton Boat Show 2023
15th - 24th September, Southampton Waterfront.
We're heading back to Southampton Boat Show for the 22nd time! It's the show for everyone, whether you're getting started or you're visiting as a wise sea dog to top up your gear during a week of action packed ocean-lovers paradise. Come and find us in the Dinghy Zone and keep an eye out for our usual clearance area and discounts on selected kit. Tickets are already available to purchase for September 2023 at the early bird rate.
We look forward to seeing you, whether you'll be attending one or two shows or the whole lot…we're ready to welcome you and help you with your questions and queries on kit for your hobbies. Keep an eye out for competitions to win tickets and much much more, see you very soon!