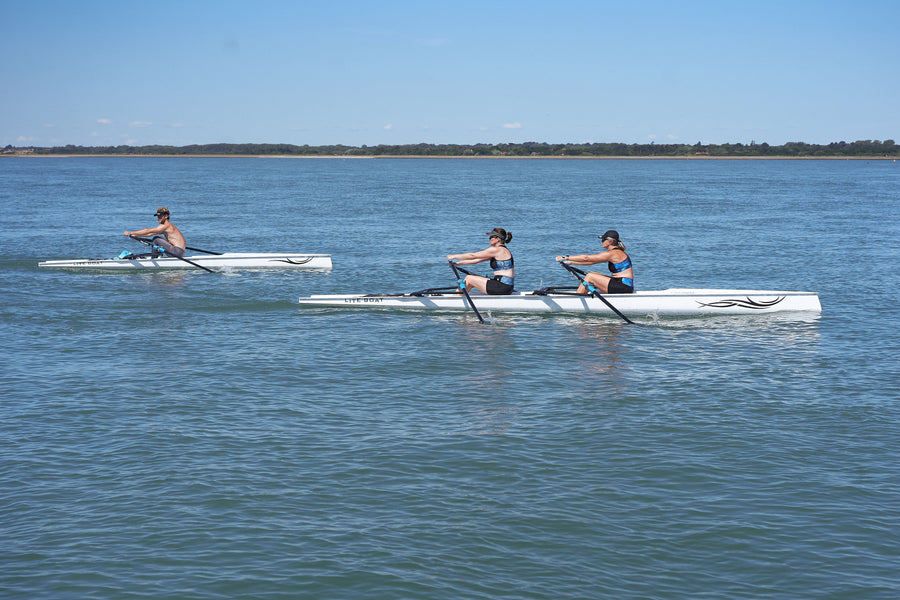 Kit Guide
Rooster Kit development into Coastal Rowing with Rowing Adventures
Rooster is always keen for a collaboration with a team or organisation in order to understand the market better. 2022 is the year where we have started to delve into the world of multi sports further, strongly influenced by our keen team who are passionate in the sports they practise, whether that be cycling, running, rugby, swimming, darts, the list is endless amongst our staff (not to forget sailing and watersports- our bread and butter and favourite of the lot!). We firmly believe that developing kit for these markets cannot be done without immersing ourselves into the sport it is designed for, whether that is by working with keen individuals and organisations or by directly having a go at the sport (or both) to understand the requirements. We are lucky to have a very active team here at Rooster HQ - this enhances our range undoubtedly.  
One of our most recent collaborations was with 'Rowing Adventures', a Lymington based organisation with whom share many core values at Rooster around encouraging participation and accessibility to their sport. 'Rowing Adventures' promote a key message through their program 'Learn, explore, and compete', where they offer a gateway at all abilities for coastal rowing around the Solent. We were approached by Kirsten Melin and Jane Wild, who set up the organisation, they wanted some coastal rowing specific training kit due to lack of options on the market, that they could recommend to their reach. Having no specific 'coastal rowing' clothing manufacturers out there, we have seen this as a great opportunity to showcase the Rooster range into this new market, as well as expand our range into some styles that specifically suit to the rowing market. 
They wanted a clear range that performed well for the needs of the sport. This proved an exciting venture for our design team to try to incorporate Rooster's current fabrics, styling and production lines to make something that would specifically suit to the coastal rowing market but also not be too exclusive, so that it could be used across our wider customer base. This aligns with our sustainability ethos to limit consumerism, so our products can be used as a multi-purpose in several applications. Working closely with Kirsty and Jane, we were able to utilise our current rooster fabric selection to develop a range that can be made economically and sustainably in our factory. Often samples (and parts of production) can be made with offcuts from our other productions, which is great for our wallets, our factory and the environment.  
The range comprises of a thin 0.5mm neoprene/polypro combination 'Hot Stuff' - Top and leggings (known as our Hot Top and Hot Legs), in both female and unisex fit, and an active Aquafleece windproof/waterproof top (known as our Active Aquafleece). For those of you that know the brand, you will most probably recognise the 'Hot' name as we use it in our glove and boot liners, and yes, the Hot top and Hot legs are not a new thing – in fact they did used to exist in the collection a few years back but were discontinued in their previous form. This also provided a great base for us to improve on, as we could look back over our notes and feedback for the reasoning that these were discontinued and take these points into consideration as well! 
The fabric we use for our 'hot' stuff is a titanium lined 0.5mm neoprene that has clever temperature regulating properties where it reflects heat back to your body to maintain your warmth. Sounds great right? Well this does come with its drawbacks, as it can become a bit sweaty in the particularly 'active' areas. The fabric can also be restrictive on movement as it is not uber stretchy. This is why, working with Jane and Kirsty, we could decipher which panels need unlimited stretch (or breathability or both) due to the movements they were doing specific to rowing. We came to develop the top and legs in their current form, where we complimented our 'hot' fabric at panels that needed warmth and insulation with our 'polypro' super stretchy fleece bonded hydrophobic fabric at the underarms, lower arms and sides of the tops, and upper waistband, crotch, sides and lower legs on the legs. 
Alongside the Hot top and legs, we have also developed an 'active' Aquafleece top, with a large vertical front zipper for superior ventilation and a more sportive and ergonomic fit to support the range of movement needed at the shoulders when rowing, with extra length at the back for support over the base of the back.  
Kirsty and Jane were a great pair to work with in this development, as although they did the same sport, they both had different opinions on how the kit should work for them, felt temperatures differently and needed support in different areas – this was a great challenge for us to try to make some products that would suit to both of their opinions.  
Working with our solely owned rooster factory, using our own fabrics allowed us to get samples quickly and work quickly on this development to bring it to market in a short period – something that it becoming more rare in this day and age with delays left, right and centre across the world! It also supports our trusted factory and workers who are used to and trained in handling these type of items, as they have for us for the last 15-20 years.