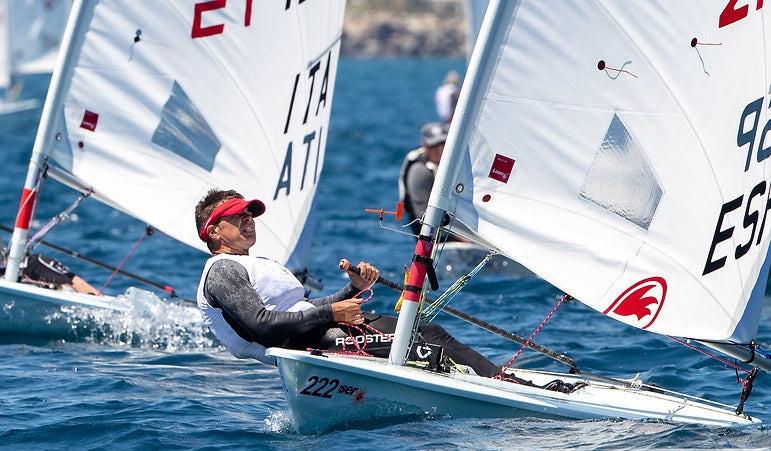 Campaigning
Thank You Bruce Kirby
I would like to start by saying that the goal of this article is not to take a stance on the current lawsuit that Bruce Kirby is involved in. Likewise, I am not taking sides between ILCA and The Laser Class. These are matters that, despite having a law degree, have gone too far for my understanding. The aim of this article is to thank the Canadian designer for coming up with such a fantastic boat that has made countless sailors around the world very happy for many years. I would like to extend my gratitude to all the people who have made the unforgettable events we have enjoyed possible.
When I turned forty, I dreamt how great it would be if I could sail for another forty as much as I had sailed so far. So, I came to the conclusion that I had to buy a Laser®. It was then when my dearest friend Pablo introduced me to the masters (senior) circuit and since then it has been non-stop; we have participated in three World Championships, five European Championships, a good number of Spanish Championships and many other memorable regattas in Spain and abroad. Most importantly, I have made a lot of friends, visited wonderful places and found a really good reason to stay fit. This would never have been possible in any other boat.
During all these years, I have met many sailors who would not keep on racing had it not been for the Laser®. They all have two things in common: a desire to race in a one-design and the love of simplicity. Almost all of them admit that there are faster and more modern boats, but they also know that there is no other international class in which the principle of one-design has been so highly regarded for so long. The fact that the Laser® is a one-design class makes racing more neck and neck, which means events are more competitive and fun. Competition is harsh and if you really want to stand out, upgrading to a better boat is not an option.
This approach has produced some of the best professional skippers in the world: Ben Ainslie and Tom Slingsby, among others. Another great advantage of this class is that selling prices have remained 'relatively' stable. In my opinion, when builders are allowed to use more sophisticated materials, costs end up skyrocketing and boats quickly become obsolete. On top of that, amateur sailors are always worrying whether a more updated option is available. However, before a Laser® championship you buy a sail and mast and, despite some 'minor' differences, you know that it will be a level playing field. Thanks to the simplicity of the Laser®, stripped of most bells and whistles, it takes much less to tune up the boat. This results in more sailing time, which after all is what we all love doing. In half an hour you have already checked all the rigs from top to bottom.
Another benefit is that breakdowns are minimal as there is nothing to break. The only thing to keep an eye on is the masts, which need changing from time to time. The Laser® is also a winner from a logistical point of view. It is well known that one of the premises on which the boat was designed was that it could be transported on the roof of a car. Not only that, it is also very easy to rent one if you have to travel by plane.
Last but not least, when organising regattas it is a class that does not present major logistical problems. There are so many good things about the Laser® that I could go on and on. It would be a win-win if everyone involved reached an agreement to ensure the future of our beloved Laser®.
Thank you,
Enrique Arriola. https://gosailingshop.com 212311-ESP