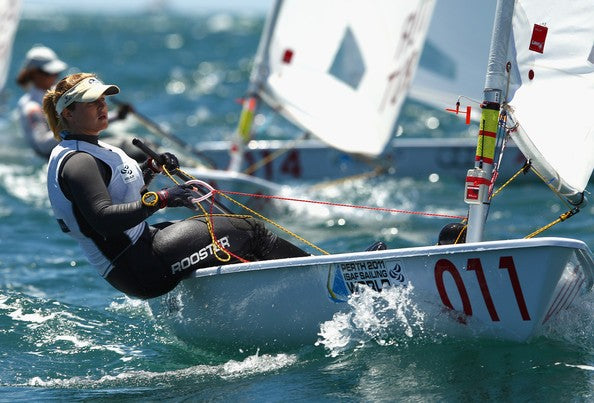 Campaigning
How Heavy to be a Radial Sailor?
I was inspired to write this article as I have seen too many promising young female sailors join the Radial Class from the Topper fleet and quickly find that they are too small and stop sailing shortly afterwards; the boat is just too physical. 
I did get to 83Kg during my Laser Olympic Campaign, and with a 4Kg weight jacket, I was competitive. I did win the windiest race at the 1995 trials, which might seam surprising, but then I was good at coping being overpowered at 5'8" 172cm tall. 
Once normal life resumed, my weight fell back to a more normal 75-77Kg.
Then I would have to ask myself which rig to sail in the Laser?  Its not just my dilemma either as there are many sailors who are given perhaps unclear advice and natural pier pressure to 'move up' to the next rig.
Standard Rig Weight. 
My thinking is that on flat water I can cope with a full rig, but not on the sea, I am just too small at 75Kg to be able to 'man' the boat around.  I should really be at least 84Kg - and somehow grow a little to make up for the lack of a weight jacket. 
 Too small for a Standard 
When I was sailing the Laser® full rig in 8 knots I could just cope, but once it got to10 knots,  I needed to start to use the kicker to depower. Unfortunately using the kicker early is very slow relative to other lasers on the sea.  You just do not point high enough or have the full luff required to drive through the chop. The kicker flattens the sail and moves the draft aft.  Again if I used the downhaul to compensate - then the leach opens =  No pointing!   
Reaching for the kicker on a lake is not quite so punishing. At least I can try and cut the wind in two.  
In international competition, even in the Standard Masters fleet, it is the mid range 8-12 knot conditions that really hurt me against sailors of 82Kg plus.  But in the Radial, I am super competitive as long as there are waves to play with downwind. 
With these sentiments in mind,  I find myself advising very small radial sailors to stay in their Topper or 4.7 until they reach at least 63Kg - after all the 4.7 world champion has been 76Kg quite recently. 
Even pro sailors need to be 67Kg to be competitive in a Radial on the sea, but this always depends on their height. For example Andrea Brewster, 3rd in Radial Worlds in 2008, said that she was only on the pace once she was up to 67Kg.