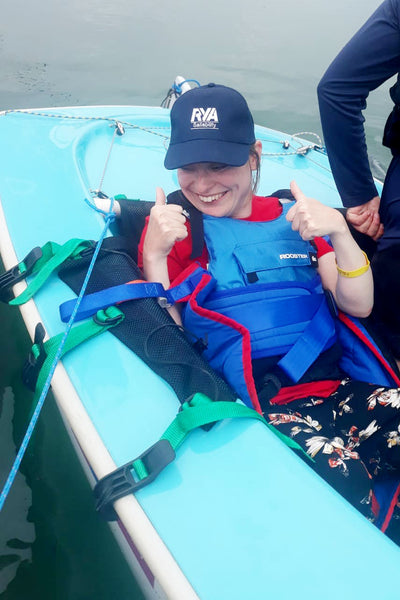 Ambassadors
The Sailing Adventures of Hannah Shelmerdine
Hi, my name is Hannah. I'm a disabled competitive sailor and have been sailing now for about four years. I sail with Bolton Sailability Group at Bolton Sailing Club and compete in an access 303 double handed dingy sailing boat. I have severe Cerebral Palsy affecting all of my body and use a wheelchair full time and require 24-hour care support. My disability has also left me visually impaired. I have recently participated in the RYA Sailability Multi-Class Regatta. The event was held at the Weymouth and Portland Sailing Academy and was facilitated by the Chesil Beach Sailability Group. I am a sailor through and through. Sailing makes my heart sing, it's what makes me happy! I've always loved sailing. I especially enjoy the challenge, speed and the adrenaline rush that I experience during competitions. This year was no exception! Usually, I sail in Belmont Reservoir at Bolton..... A relatively calm area of water. It is occasionally a challenge but after four years and many sails, I feel I can cope with everything Belmont has to throw at me. Being in Weymouth for the Multi-Class meant sailing in the much more open water of Weymouth Harbour.
The Lead Up...
To give a general overview let me explain the lead up prior to each event. My crew and I had to navigate out of the sailing academy, through the narrow channel and into the waters of Weymouth Harbour. It is approximately a two-mile sail before the competitions even began. It seems like I have been sailing forever just to get to the start line. Sailing on a harbour meant at times the water was very choppy. This is something I rarely experience, and being visually impaired I particularly enjoyed the sensation of being in these conditions. The motion of the boat, hearing the sound of the water, and the smell of the fresh salty sea air. I loved the wind blowing on my face and through my hair. On these occasions, it was just a good job I don't have a big breakfast. Thankfully I'm not a big breakfast person. Up and down and side to side went me and my crew in our little boat.
The Event
So, there I was giggling away while my crew was giving me auditory instructions to enable me to helm the boat. It was imperative those instructions were clear and concise and we both had to communicate really well. Once on the water, I have no idea of where I'm going, of course, direction or the positioning of the other boats. My crew tried his utmost to foresee what tactics and course the other sailors would take. He would have to use his very quick judgement to make split-second decisions and give me instructions. This can be very tricky as he had to account for the time delay between him giving the instructions and me carrying them out.
Friday afternoon...
...and the first event was team racing. A reasonable course distance to sail and the winds were ideal for me. I came second in this event overall, and I was so happy with this result, especially as I had never experienced team racing before.
Saturday was a much different story.
The morning's pursuit race was a long and hard sail. The weather was hot and sunny and the race took about two hours, so I struggled to keep my concentration. All boats from all classes competed in the pursuit race. My boat being a 303 was considerably slower than the other classes of boats that I was competing against. It would have been nearly impossible for my boat to outsail the many faster boats even with their handicap, like comparing a hare and a tortoise. I didn't come right at the bottom of the race but as expected ranked lower than most. I still feel I sailed well in this event. Saturday afternoon was the beginning of the fleet racing event. The wind speeds had picked up massively! The boat began to heel right over, and with the water being super choppy it started to gush in. I've had water in my boat many times before, but on this occasion, it became stronger and stronger. The more wind, the more water came splashing over the side of the boat. My crew asked the safety boat crew if they had a spare baler. By now I was just absolutely crying with laughter and squealing with excitement. The safety crew did not have a spare baler, so I was laughing more at the thought I may float off, thankful I had my trusty Rooster buoyancy aid on. My crew and I collectively decided it might be a good idea to retire from that afternoon's events.
Aftermath
Although I came in very wet, I thoroughly enjoyed the sail. I am a bit of an adrenaline junkie and like to push myself and my sailing abilities to the absolute limit. My poor care support workers had to remove my trainers and turn them upside down to drain all the water out. And there was lots of it! My bedroom and my wet clothes absolutely hummed of salty sea water. The fresh salty sea air didn't smell so fresh anymore. Never mind, let's get showered, warm and changed ready for the event dinner. As a sailor, I have to work with the weather conditions as that's the nature of the sport. I am out in the natural elements, I rely on fair winds to power my boat and that's the challenge in itself. As a Rooster ambassador, I think it's fair to say that competing in the RYA Multiclass Regatta I was 'in my element'. Follow Hannah's Adventure's on Facebook