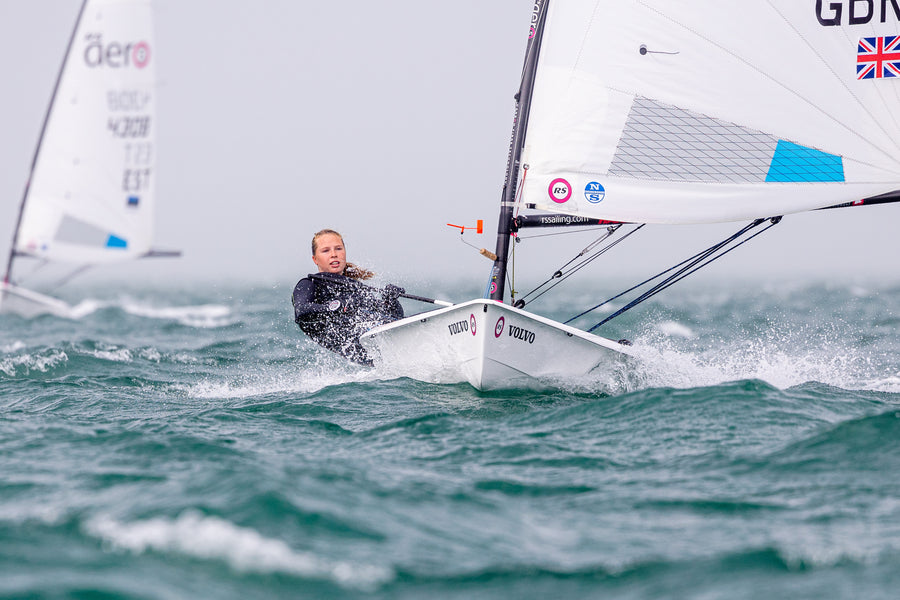 Ambassadors
The Rooster® Sportsmanship award Winner at the RS Games 2022
The Rooster® Sportsmanship Award is an accolade awarded to an individual that displays qualities that embody the Rooster® Core values to Inspire, educate and facilitate access to the freedom of being on the water #InYourElement
This could be any person at any level within their sport or even an individual who simply goes above and beyond for their sports community at certain world sporting events: The RS Games and SailGP Inspire.
The individual winner is decided by the event organisers and referrals from any of the event attendees. This year we launched the award at the RS Games 2022. We spoke to class associations, RS Sailing, organisers, sailors and competitors and this year the award has gone to Sasha Tydeman.
Sasha was the most stand-out candidate for the award at the games, referred to us but the RS Aero class, she is proactive in caring for and helping her fellow sailors, she greets everyone and is a real credit to the class. On one occasion during the Games the morning yoga instructor had let down the event last minute so Sasha stepped in to help and take a session as a yoga fan familiar with the basic moves and principles.
It was very clear we made the right decision, many sailors came to the Rooster stand at the event to say how brilliant it was that she won and how incredibly warm and inviting and proactive she is in the RS Aero class.
Sasha will be fully Rooster kitted out and supported by us for a year and we will work with her to continue to support her sport and her proactive ethic.
Sasha is currently Publicity Officer for the RS Aero Class. She has shared some details with us to get to know what she is currently up to:
"I study English Literature at UEA, just going into my second year and I'm a bit of a bookworm, I love being outdoors and I do a lot of sport! Mainly yoga, sailing, running and rock climbing currently. I've always been quite an all rounder, so I also love art and playing the guitar but I do find time runs out for a lot of things! I was a competitive middle distance runner for most of my teens so though I did Oppie's when I was little I did sailing for fun for the most part. In the last 2 years, I've now switched to focusing on sailing a lot more and running's taken a back step. I did the university team racing circuit this year, where my team won many events and we came 5th at the BUSA finals and were invited to the Wilson Trophy. Over the summer, I've gotten into the Etchells circuit which I've really enjoyed. I've done the Southerns, Red Funnel Regatta and Nationals where I was part of the team that came top Corinthian and youth. I've sailed Aeros for 4 years and I love the class, i was part of the youth squad a few years ago and I'm hoping to try and improve within it over the next few years now that I'm focusing a lot more on sailing. I've definitely already improved this year with a good result at the nationals and the Europeans being my best result ever achieved. I've also set up my own Match Racing team which I'm skippering and taking to 3 events in September; Youth MR, Womens MR and Summer MR 2 so hopefully that will go well! I had my first event early July and it felt a bit like throwing myself into the deep end so learnt a lot and hopefully will have improved for them! I'm planning on applying for the BKA this year (maybe the Etchells youth academy as well) and really just enjoying training on the Aero and competing in that circuit but for the most part mainly focusing on my degree. Anyway, hope that's a little bit helpful! Thanks so much again for all of this. It's feeling very amazing!"